This is the premier crypto-mining marketplace in the world and it is where miners and blockchain projects go-to source excess hashing and computing power. Through a combination of user-friendly mining software and a strong infrastructure, NiceHash has built a formidable presence.
However, every company does have a few pros and flaws, which NiceHash did have in the past, but surprisingly it survived.
What is NiceHash?
NiceHash is an online marketplace for buying and selling your computer's processing power. This processing power is known as hashing power in cryptocurrency terminology. It's like an exchange service where you're exchanging computing power for Bitcoin.
Anyone can sell their hashing power, even if you only have a small gaming machine. And anyone can buy hashing power if they want to take advantage of mining without spending an exorbitant amount of money on mining hardware.
NiceHash has been in business since April 2014, so they know quite a bit about cryptocurrency mining and exchange. Since opening its virtual doors, NiceHash has become the largest hash power marketplace in the world, with over 170,000 miners, more than 3.3 million orders served, and over 181,000 BTC paid out.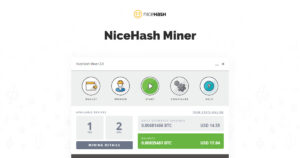 How Does it Work?
NiceHash can be used by both sellers of hashing power and buyers of hashing power. This significantly increases it potential user base, and some sellers also become buyers and vice-versa. Buyers are able to begin ordering hash power immediately following their initial registration, and sellers don't need to register at all if they prefer to remain anonymous.
As a buyer, you can choose which cryptocurrency to mine, with the service supporting 34 different algorithms, including SHA-256, Blake, Equihash, Scrypt, X11, X13, X15. You can mine whichever algorithm is most profitable at the time and payments are made in Bitcoin.
You can also use whattomine.com for More info
Nicehash Profit Calculator / Mining Hardware
The best part about the company unlike other mining software, it provides a profit calculation, so that you know how much you can be paid with your current hardware gear.
Link: https://www.nicehash.com/profitability-calculator/nvidia-rtx-3090 or https://www.nicehash.com/mining-hardware
How much is NiceHash Fee?
Of course, there are fees to consider when using NiceHash. Some of the fees you'll encounter are as follows:
Buying Hashing Power
Non-Refundable New Order Fee: 0.0001 BTC
Amount Spend on Orders for Buying Hashing Power: 3% (unspent amount on canceled orders is not subject to this fee)
Selling Hashing Power
Payouts for Balances Less than 0.1 to External Wallet: 5%
Payouts for Balances Greater Than or Equal to 0.1 BTC to External Wallet: 3%
Payouts for Balances Greater Than or Equal to 0.001 BTC to NiceHash Wallet: 2%
Withdrawal
The best part about NiceHash is that it has improved its withdrawal system, meaning you can now convert your currency to other crypto coins and get paid via that, by this way you could say that you are also saving some fees.
Conclusion
Well, Its been 5 years, I have seen various crypto miner software and companies, most of them turn out to be scams, and NiceHash also got hacked into a breach worth more than $10 Millions in cryptos and they have done their best to recover from this, and they have lived up to their reputation.
So NiceHash is the best Crypto Mining platform right now.