Coin.Network is a crypto ad network for publishers to maximize ad revenue and advertisers to reach niche audiences.
The platform first launched in 2013, and a year later, it became the first to democratize Bitcoin ad payments for Reddit. Since then, it's grown to be a trusted partner for some of the world's biggest crypto brands, including CoinGecko, WhatToMine, CoinSpot, BitPanda, and WorldCoinIndex, among others.
Coin.Network is now one of the best places to promote crypto products because of its high-quality network, targeted ad campaigns, and dedicated account management for performance optimization.
Let's take a closer look at how you can maximize ROI with a Coin.Network account 👇.
What is Coin.Network?
A US-based programmatic ad platform that helps crypto- and finance-focused brands place targeted ads across multiple media formats like native, display, and newsletters that are relatively new.
Thanks to its vast audience (10 million monthly active users in the native network and 50 million in the display network), Coin.Network has a massive reach to niche audiences in the crypto market. It also works with over 20 curated crypto partner websites to ensure relevant ad placements and maximized campaign ROI for advertisers and publishers.
The privacy-focused ad platform BuySellAds owns Coin.Network with years of experience in programmatic advertising and account managers with in-depth knowledge of campaign management and optimization.
Targeting: Crypto brands can reach global audiences or niche communities across high-quality traffic-driving regions

Audience: Advertisers can target audiences across premium cryptocurrency websites using a nexus of trusted partners

Ad formats

: Launch successful campaigns using various methods, including native and programmatic display ads
Advantages
✅ Hands-on ad ops support for campaign optimization
✅ High-quality traffic thanks to targeting methods and trusted partners
✅ Publishers and advertisers are screened before they are accepted onto the platform, resulting in higher-quality campaigns and audience targeting
Disadvantages
❌ Doesn't offer as many payout options (besides USD ($), BTC (Bitcoin), ETH (Ethereum), and LTC (Litecoin) with Net-30 terms
❌ Publishers must have a minimum $5k budget to get started in the case of a self-serve display ad campaigns
Coin.Network for Publishers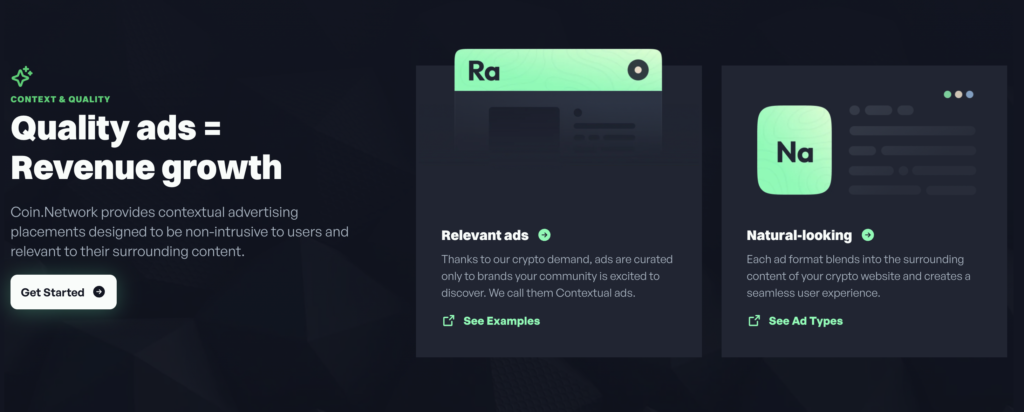 Publishers must apply to join Coin.Network, but once accepted, the benefits are instant.
They have complete control over how the ads are placed on their websites. They can choose to place display and native ads on the most relevant pages that don't interrupt their user experience.
Thanks to features like above-the-fold (ATF) placements and granular user targeting, audiences will only ever see ads that are relevant to their interests and the page content. On top of this, the platform's full-stack ad management suite and in-house ad ops team take care of ad management and campaign optimization to maximize the yield on every placement.  
Coin.Network for Advertisers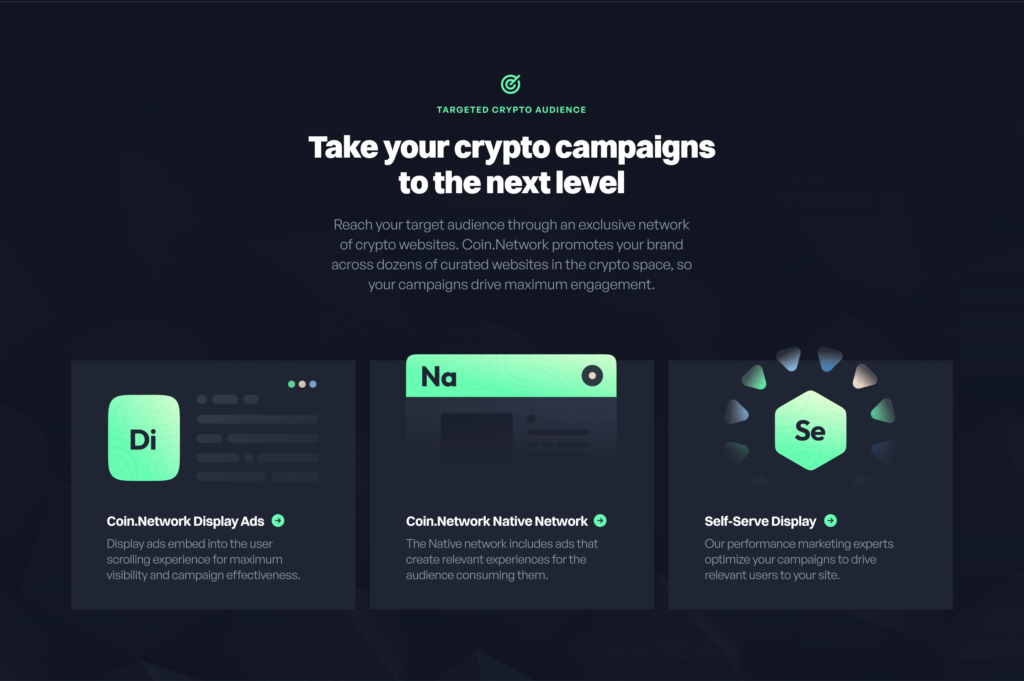 Advertisers who partner with Coin.Network can configure which audiences see their ads depending on their location, past behavior, and interests.
There are many ways advertisers can customize their crypto campaigns. Coin.Network offers a choice between traditional display ads (300×250 and 300×600 )and popular leaderboard ad formats (720×90 and 970×250), along with proprietary native ad styles like the Cryptobar and Sticky boxes that are created keeping crypto audiences in mind.
How Coin.Network helps with revenue growth
With 1B+ monthly ad impressions served, it's no surprise that brands and content creators continue seeing rapid growth with Coin.Network.
The combination of curated publishers, along with Coin.Network's full-stack ad management suite, allows advertisers to increase revenue by targeting audiences who are interested in crypto. The platform allows advertisers to target audiences based on their geographical location, interests, and industry to optimize campaigns to maximize ROI on every dollar spent.
Other factors, like showing relevant content and responsively-designed ad formats, enhance the audience's experience and add to their user-experience while on a publisher's website. Typically, Coin.Network starts seeing measurable and comparable results within a few weeks after you're onboard, as its team of experts works around the clock to optimize ad performance.
The combination of all these features makes Coin.Network the driving force behind the revenue growth of many global crypto brands.
Coin.Network trusted partners list
Some of the biggest names in crypto have joined Coin.Network to reach niche audiences
Coin.Network Timeline
First crypto ad sold by parent company BuySellAds in 2013

Enabled Bitcoin as ad payments for Reddit.com in 2014

Built in-house crypto-focused direct sales team in 2015

Launched the Cyptobar native ad format in 2017 

Officially introduced the Coin.Network platform in 2018

Became Blockchain.com's exclusive ad partner in 2019

Sold the first crypto newsletter sponsorship in 2020

Reached 1B+ impressions/mo across publishers in 2021

Trusted by the biggest global crypto brands as of 2022
Thanks to its industry partnerships and credibility in the crypto advertising space, Coin.Network works with the most recognized crypto brands and publishers. Here are some you may recognize 👇
Notable advertisers using Coin.Network:
CoinSpot

Bitpanda

Upland

Okcoin

Exodus

BlockFi
Notable publishers using Coin.Network:
WorldCoinIndex

WhatTomine

BitInfoCharts

CoinGecko

Live Coin Watch

Goldprice.org
How to get in touch with Coin.Network 
Email: info@coin.network

Contact Page link: https://coin.network/contact

Linkedin: https://www.linkedin.com/company/buysellads-com/