Sesterce Mining is a newcomer to the cloud mining industry for cryptocurrency miners, it offers amazing features at affordable prices, but is it still worth buying is the main question.
What is Sesterce Cloud Mining?
Sesterce is a cloud mining platform that offers the best products that are keen on matching your every need with the best technological inventions the world has to offer. The products include cloud mining rigs, hosting, and cloud mining itself. Their financial model is not only efficient but also open and free. Importantly, Sesterce Cloud Mining Company consists of several expert personnel. The company has its main offices in Marseille-France, Hong Kong, and the United States.
Sesterce Cloud Mining Operations
As a client, you need not worry about your location. Sesterce cloud mining is global, ensuring all their products and services are delivered to your place of convenience. Their expert customer service ensures you get timely responses to all your queries. Overall, Sesterce is Europe's number one cloud mining platform with affiliations to the best partners in the same field globally.
With more than 30 partners, Sesterce allows you to mine different cryptocurrencies at once. Whether you're a beginner, an experimenter, or an expert, there is an offer for you. The company offers mining hardware together with contracts with complete and easy-to-comprehend guidelines.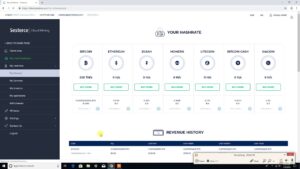 Should You choose?
As a client of Sesterce cloud mining, you don't need to have mining hardware to operate. The hassle of setting mining hardware up and maintenance, even technical is left to the experts. Therefore, you can mine even without having your own mining equipment.
Besides, you will experience only the best prices for all the products at Sesterce. This is because they hunt for the best-priced commodities on the market before presenting them to you. That gives you the best prices without a compromise on the quality of products and services.